Rome Airport Fiumicino
Between the 1960s and 1980s, the airport was targeted for several significant aircraft hijackings.
Airport Info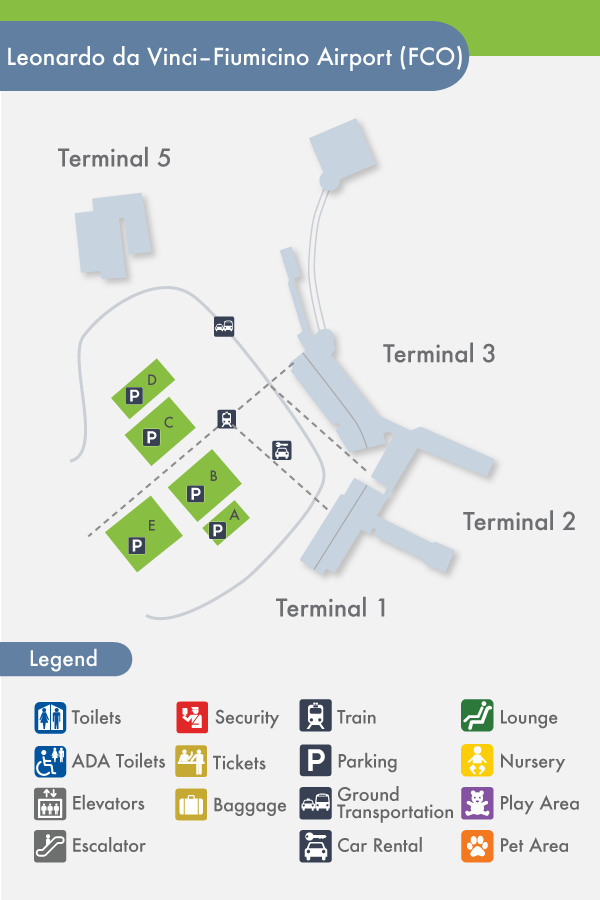 The Leonardo da Vinci-Fiumicino Airport (FCO) is located in Fiumicino, Italy, about 19 miles southwest of Rome's city center. Opened in 1961, it is now Italy's largest airport, one of the largest in Europe and a major hub for Italy's flag carrier, Alitalia. It comprises 4 runways and 4 passenger terminals.
In 2011, the Rome Airport (FCO) serviced nearly 38 million passengers. It was named after da Vinci, who designed the first known proto helicopter as well as a flying machine with wings. Due to the need for increased capacity, it is continually undergoing upgrades and modifications. Currently planned modifications are an eco-friendly cogeneration system, a new Pier C with 16 additional loading bridges and 4 new terminals and 2 new runways by 2044.
Hub for:
Air Italy
Alitalia
Blu-express
Blue Panorama Airlines
EasyJet
Meridiana
Mistral Air