New gardening concepts abound for urban dwellers. Square-foot gardening and vertical gardening techniques offer boundless opportunities for gardening hobbyists who are apartment-bound and yard-less. However, you don't need to pore over extensive gardening books in order to create your own apartment garden. Here are 5 easy steps to creating your own apartment "garden":
Step #1: Determine your gardening goals.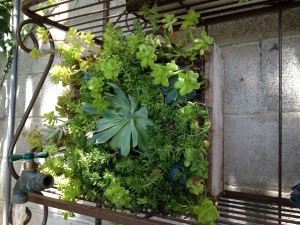 What are your gardening goals? Do you want to beautify your apartment? Or do you want to start gardening for purely practical purposes, i.e. growing edibles? If your goal is for décor, there are alternatives to the standard pot of soil. Vertical gardens come in a range of sizes and can improve your apartment's aesthetics. Also, air plants (see below) do not require messy soil and are easy to maintain. If it's edibles you are after, think about selecting smaller footprint plants, such as herbs and peppers (smaller, spicer ones). If you want gardening to provide a dual-purpose, consider planting herbs in a vertical garden – leafy herbs, such as basil, cilantro, and parsley, can provide pretty décor.
#2 Identify any areas that get direct sunlight and indirect sunlight.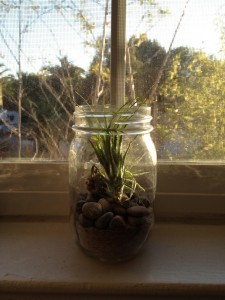 Scope out your apartment's sunlight throughout the day and figure out where plants can be get the most sun. Take advantage of all potential locations for your "garden" – don't forget about sideyards, outdoor common areas that your landlord and neighbors won't object to your use of, balconies, patios, etc. If you don't have a central area, you can scatter your "garden" across several locations. Caution: It may be more challenging to remember to care for plants in a variety of locations, but once you get in a habit, it really should not be too difficult. Next, take note of each location and how many hours of direct sunlight and/or indirect sunlight it receives each day. If your apartment gets direct sunlight, you will have more options available to you in terms of plant selection. However, if your apartment only gets indirect sunlight, you can still provide good homes for plants, such as orchids, succulents, air plants (see picture at left), kale, lettuce, etc. Visit your local nursery to find out the best plant varieties for your area.
#3 Consider edible plants that might save you on groceries.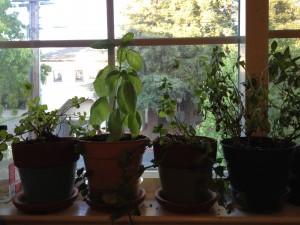 If you are an apartment-dweller, chances are you often on-the-go. In which case, you may want to consider edible plants to help save you on trips to the grocery store. Purchasing herbs at the store can be inefficient as they don't last long enough for 1-2 people to consume in entirety. Having some fresh herbs to use on occasion can help you save on groceries.
#4 Select planters and plant varieties to suit your apartment's space restrictions.
Once you've figured out what you want to plant, you'll need to consider how to maximize your limited space. Vertical gardens are nice because you can simply hang them on your wall or door. If you have some outdoor area available, you can opt for larger, deeper pots to grow more space-intensive plants, such as tomatoes or carrots. Alternatively, you may want to maximize your window sills by purchasing horizontal planters for small flowers. You may need to search a bit, but horizontal planters come in several sizes with a range of features to suit your particular apartment.
#5 Establish a regular watering, fertilizing, pruning, and harvesting schedule.
The last step, but perhaps the hardest, is to establish a regular schedule for maintaining your apartment garden. If you don't have a lot of time, choose plants that only need weekly care, such as succulents and air plants. Otherwise, getting in a habit of watering daily or every other day will be key to proper upkeep of your garden.
I really enjoy gardening and love the veggies and herbs I harvest from it, even though I live in a small, 1-bedroom apartment. It definitely requires a little extra effort in terms of planning for my small space, but I have found that it is not nearly as challenging as I initially thought!