You're playing Santa for all your nieces and nephews, and you did plenty of shopping during Black Friday. But how are you going to bring all your presents with you across the country? Should you carry them on or check them in, knowing that airlines have significantly raised their baggage fees? Or should you risk shipping them, knowing that there will be significant lines at the post office? Do you even have any other options that can save you time?
Well, TravelNerd has done the homework for you. We looked at three popular methods of transporting presents so you know exactly what you get, no matter how big or small your present is.
1) Carrying-on and Checking in Bags: Pack up your presents, and take them to the airport with you.
2) Shipping presents: If you shop ahead of time, this may be the option for you. Ground shipping can take up to 14 days, so send them out now.
3) Luggage Delivery service: This option is a little pricier than the others, but its charm lies in the convenience. You still pack up all your gifts, but then the luggage delivery service will come at a pre-determined time to pick-up your package, transport them to your desired address (including hotel rooms) whenever you'd like, even nights and weekends.
What are your best options?
Now that you know what your options are, you'll want to know what your BEST option is. Unfortunately, that's not quite as easy. Prices, timeliness and convenience vary a lot depending on the size and weight of your presents. However, there are some trends:
In general, carrying-on or checking-in bags under 50 lb. and under 60 inches is the cheapest and most convenient option.
Only drawback? If you packed them in suitcases, you will have to bring the suitcase home with you. Therefore, either factor in the return cost of checking in a bag, or make sure you are able to consolidate all your baggage to not incur that fee.
Baggage fees start soaring once bags are oversized or overweight. This is when you should decide whether you are willing to save a couple bucks by shipping them yourself or to splurge on convenience and timeliness by using a luggage delivery service.
Some airlines and shipping companies will not ship bags over 70 lbs. Most shipping companies will not ship boxes over 80 inches. Make sure you know your provider's limits.
If you are only sending media (books, films and other forms of media), USPS has a special type of transport called Media Mail for packages under 40 lbs. The fee for this form of shipping is much cheaper: $18 for a 40 lb. package.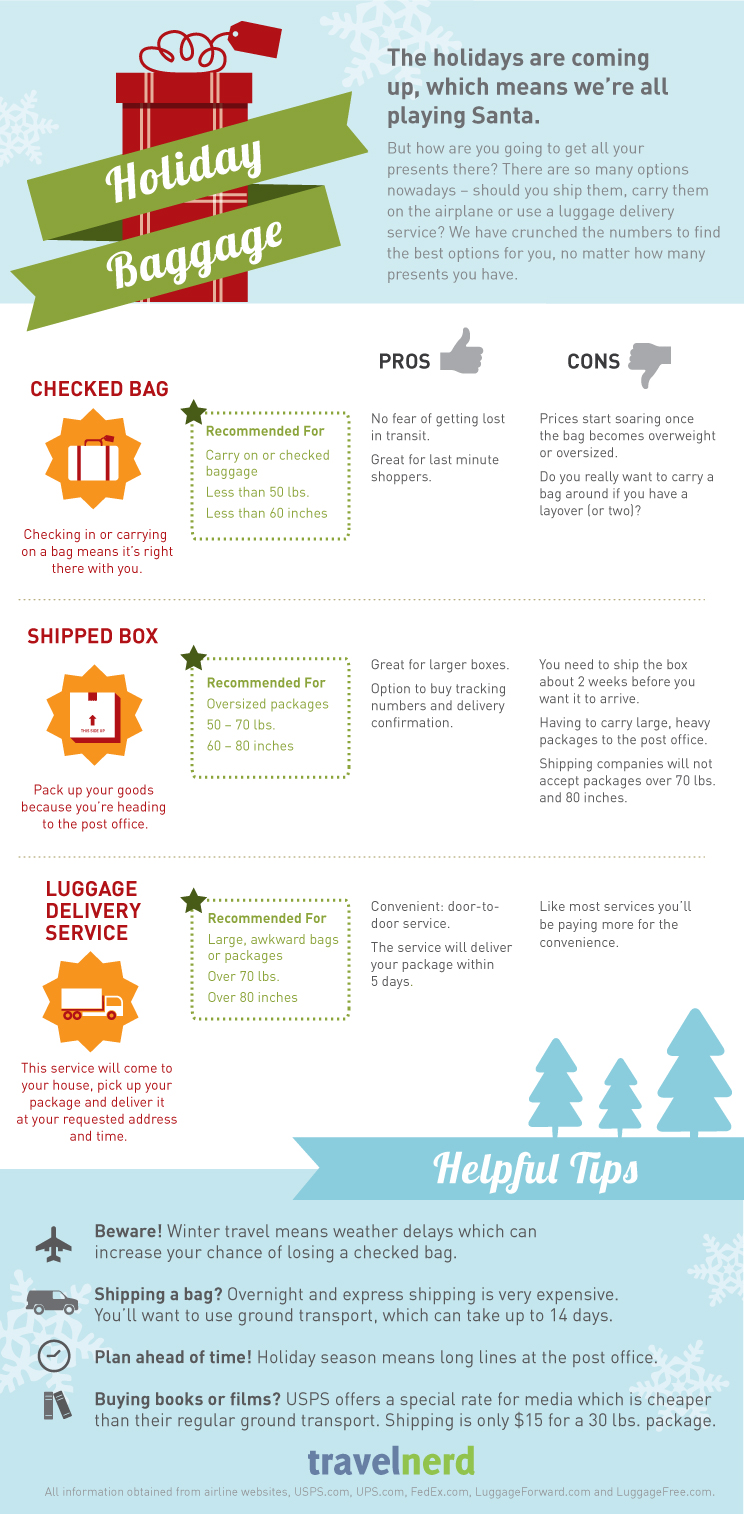 Embed this graphic on your own site:
Additional Information:
All prices based on shipping from San Francisco Airport (SFO) to John F. Kennedy Airport (JFK) to keep the same distance for shipping methods and baggage fees.
Checked bag price ranges are from the four legacy carriers and 4 budget carriers. For specific baggage information about your specific airline, check our airline fees tool.
Checked Bag
Shipped Box
Luggage Delivery Service
Bag Weight
0 – 35 lb.
$0 – $40
$35 – $46
$60 – $70
35 – 50 lb.
$0 – $38
$45 – $60
$80 – $100
50 – 70 lb.
$85 – $125
$70 – $110
$120 – $140
71 – 100 lb.
$100 – $225
$90 – $100
$120 – $180
Bag Size
0 – 45 in.
$0 – $40
$35 – $46
$60 – $70
35 – 50 in.
$0 – $38
$35 – $46
$60 – $70
61 – 80 in.
$35 – $225
$70 – $110
$120 – $140
81 in.+
$110 – $325
N/A
$120 – $180