Airplanes are incredibly fascinating to toddlers; there are buttons to push, armrests to lift and lower, little windows that are just their size, an endless number of new 'friends' to amuse and interesting sounds all around. But, with an attention span of fifteen minutes or less, two-year-olds zoom through their explorations with amazing speed. Every child has their own threshold, but on a long-haul flight, you can guarantee that the plane itself will loose its allure and the favorite toys you've packed from home won't be so exciting at some point. So, now what?
Here are a few ideas for mixing it up and enjoying the ride!
Clip-on Markers
Need I say more? It's not fun to search airplane floors for anything, let alone to reach down for a marker cap fifty-two times in an hour or to find the marker covered in someone else's pretzel crumbs. Pick a few of your child's washable markers and attach them to clip-on covers originally designed to keep track of chap-stick. Most child-size markers will fit perfectly.
Magnetic toys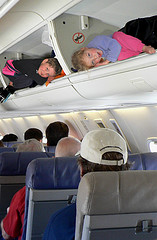 It's like having an extra set of hands around! Check out the travel sets from Tegu, a socially- and environmentally-responsible company that sells beautiful magnetic block kits in portable packs. The magnetic tins from Mudpuppy are also a favorite; The World Traveler Dress Up Doll comes with four background scenes and three sheets of magnets all within a tin carrying case.
Reusable Sticker Books
Stickers are always a big hit with two- and three-year-olds, but they can be a pain to clean up after. Reusable stickers, however, can be applied over and over and over again⎯similar to well-made window decals. Plus, a twelve-page sticker book, such as this Thomas & Friends book, can be purchased for under $10. Just remember to double check that the stickers really are labeled reusable before you click purchase!
Pipe cleaners
Fuzzy, bendy and cheap, cheap, cheap! This 71-piece kit from ALEX TOYS is only $11 and provides endless entertainment for toddlers. Craft a special pair of plane glasses, a set of accessories for a favorite stuffed animal, or a flower for a flight attendant⎯it's great to bank bonus points in case your normally sweet two-year-old experiences a not-so-happy moment later on during the flight! (Note: I wouldn't recommend packing all 71 pipe cleaners for one flight!)
Painter's Tape
Not used to playing with painter's tape? Give a piece to your three-year-old and see what they can teach you. Painter's tape is traditionally bright blue, only slightly sticky, and cleans up in just a few seconds. Create a make believe scene on the window, a place mat on the tray table or clothes for a doll. Most rolls start at 180 feet, so you'll have plenty to share.
Wrapping Paper
With toddlers, it's all in the delivery. Pull out your extra wrapping paper and wrap all of your 'gifts' in fun colors and designs. If you don't have much wrapping paper at home, you can use construction paper, newspaper or magazine pages instead. Try to space out the delivery of your gifts so you don't run out of surprises at the end of the flight! And, hold on to the paper and use it for coloring or origami later.
Do you have a favorite activity for long flights? Please share it below.