Comprised of five boroughs and endless busy streets, trying to find your way through the bustling metropolis of New York can feel like a nightmare – but with a little patience and these tips, you'll get around just fine. For a quick guide on how to get to Manhattan from any of the NYC area airports, check out our handy airport tool's customized directions for JFK, LaGuardia or Newark Airport.
Riding the bus
The New York bus system can be tricky to understand. Since the stops are often not announced inside the bus, it's hard to know where you are and when you need to get off. Try to stick with the train and a little footwork if you're not a natural direction guru or don't have a GPS with you.
The bus' end station will be displayed on the front of the bus to indicate the direction the bus is travelling. When you're approaching your stop, hit the "stop" button to indicate to the driver that you need to get off, otherwise, the bus will keep driving past your stop. A bus fare costs the same as a ride on the train and can be paid with your metro card.
Understanding the train
Unlike the subway systems in many other cities, the direction a train takes isn't indicated by the last stop on the line. This can make the New York subway a bit difficult to understand for newcomers. However, once you get the hang of it, the New York subway system is a breeze to navigate.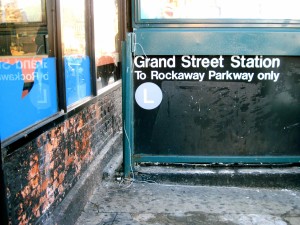 It does help to have a solid understanding of how the boroughs relate to each other geographically. For instance, a Bronx-bound train will take you north, while a Brooklyn-bound train will take you south. If you're in one of the outer boroughs and want to get into the city, you'll take a Manhattan-bound train.
A one-trip MTA ticket costs $2.25. As long as you don't exit the subway system, you can make as many transfers as you want. Be aware, however, that once you exit through the turnstiles, you'll have to pay to get back in. If you're going to be riding the subway often, it makes sense to get a refillable card. You receive a 7% bonus amount for whatever you put on the card (starting at $10). For instance, paying $20 for a ticket actually gets you $21.40. A 7-day unlimited pass is $29 and well-worth it if you'll be in the city that long. Single rides add up quickly.
Taking a taxi
Sometimes, especially if it's late at night and you're not sure where you are, or if you've just missed your train and have another hour to wait, there's nothing for it than to splurge on a taxi. NYC taxis are high tech. Almost all of them are equipped with a television in the back where you can pay with your credit or debit card.
A taxi costs around 50 cents for each fifth of a mile and every minute the cab is stuck in traffic. An average fare for trips in the city is around $12. Don't forget that you leave the same tip for your cab driver as you would in a restaurant. Fifteen to twenty percent is standard. If you're paying by card, you'll have the option to leave the tip on your card.
Call a car service
While you can't call a taxi in New York (only hail them on the street), you can call a car service. These are especially prevalent in the outer boroughs where yellow cabs don't like to go. (While it is illegal for a cab driver to refuse you service based on your destination, when the traffic is bad getting in and out of Manhattan, many drivers won't take you.)
Arrange the fare before you go, otherwise you'll often end up paying far more than you should. Some drivers will even haggle over the price. Since there's no meter in these car services and the price is by agreement, you'll also have to pay with cash. As with yellow cabs, however, it's standard to tip fifteen to twenty percent.
Don't get into an unmarked car if you haven't called a car service. A true car service is not allowed to pick you up without prior arrangement. If you're at all uncertain about a car that stops for you, ask the driver to verify your address.
Sometimes, you just have to walk
While some areas of New York are admittedly impossible to navigate (Greenwich Village, anyone?), walking is often the best way to get around. For the most part, the streets are laid out like a grid, with the east-west streets numbered chronologically. When you get out of the subway, first orient yourself north-south based on the east-west streets. For instance, if you're standing at 23rd Street, you know that 24th Street is north and 22nd Street is south. Avenues run north-south, but these can be a little trickier to understand, since they're not completely chronological. 1st, 2nd and 3rd Avenues start on the east side of Manhattan, but are then broken up by Lexington, Park and Madison, before continuing to the numbering system. South of 14th Street, it's a bit of a free for all. I'd bring a map.