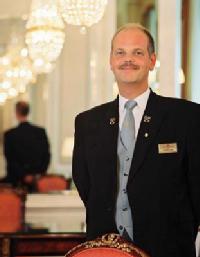 Would you feel safer if your hotel came equipped with a gas mask? Would your vacation be more complete if you could give your dog the gift of surfing lessons? To create memorable experiences, hotels offer everything from duck parades to free guitar rentals. But you'll have to look beyond the Holiday Inn Express to find amenities that transcend the norm. Sure, any hotel can provide a workout room and fluffy towels, but how many supply sexy underwear or teach you to roll cigars? Here are TravelNerd's top 10 strangest hotel amenities from around the globe.
1. Gondola Massage
Massages are nice. But you know what makes them better? Gondolas. At the Loews Coronado Bay Resort in San Diego, you can partake in the ultimate indulgence: a 40-minute professional massage aboard a 33-foot gondola gliding gently through the canals of the Coronado Cays. The boat departs from the resort's private marina and concludes with strawberries and champagne.
2. Duck Parade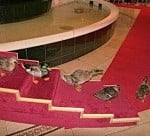 What could be more alluring to travelers than a procession of ducks marching through the hotel lobby? Since 1940, the Peabody Memphis Hotel has hosted duck parades. Twice daily, five North American mallards waddle through the lobby amid a barrage of camera flashes and gleeful children. When not performing, the ducks reside on a rooftop palace. The hotel even offers duck-shaped soap.
3. Sex Toys
The Drake Hotel in Toronto doesn't limit room service to food and wine. The Drake also offers a "Pleasure Menu" from which guests can select kits and individual items, including but not limited to massage oils, condoms and how-to videos. Simply call up a staffer the same way you'd order a meal, and within minutes your chosen items will arrive at your door. If you're traveling on business, just remember not to include the purchase on your expense report.
4. Gas Mask 
At the Fairmont Peace Hotel in Shanghai, you can rest easy know you won't die of noxious fumes. Each room comes equipped with a pair of gas masks to protect guests from smoke in the unlikely event of a fire. The masks are kept in lovely red cloth cases with gold chords. Maybe what's strange here is the fact most hotels DON'T carry such precautionary items. As improbable as hotel fires are, they do happen, and wouldn't it be nice to have an emergency smoke mask just in case?
5. Pillow Fight Materials
Upon entering a hotel room, kids are biologically programmed to 1) jump on the beds and 2) beat the snot out of each other with the pillows. The Ritz-Carlton Palm Beach knows this. In fact, they encourage it. You can request a pillow fight package, which comprises a bag of 30 tiny silk pillows, child-size boxing gloves, cookies and milk. Your kid will never want to stay anywhere else.
6. Pet Psychic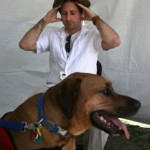 If you're traveling with a pet, it can be tough finding accommodations. But if your destination happens to be Portland, OR, you're in luck. The Hotel deLuxe has an entire floor dedicated to guests with pets. In addition to gourmet treats and canine acupuncture, you can consult the in-house psychic for advice on strengthening your relationship with your pup. Obviously, this is entirely necessary.
7. Surfing Lessons for Dogs
Continuing with the pet theme, travelers can sign their canine companions up for surf lessons at the Loews Coronado Bay Resort & Spa Su'ruff Camp. Sound absurd? It is! But for the dog who loves getting his fur wet, it's a guaranteed good time. After learning to surf mini waves and ride to shore, pooches are treated to a salmon and beef tenderloin surf'n'turf room service meal. All dogs go to heaven eventually. Why not give them a preview?
8. Underwear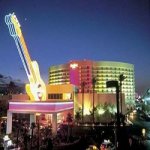 Where else could this be but Vegas? The Hard Rock Hotel & Casino provides very Vegas amenities available with a quick call to room service. You can request everything from handcuffs and blindfolds to French maid outfits and sexy underwear. Included on the menu are "Turn Me On Vibrating Panties," which warrant no further description.
9. Guitars
The Hard Rock Hotel makes the list again, this time in Chicago. For no additional charge, guests can borrow one of 17 Gibson guitars. Both acoustic and electric options are available, and models include a SG Carved Top, LES Paul Custom and Hummingbird. If you'd like to hone your skills, you can play through a 70-minute tutorial in your room or sign up for a lesson with Guitar Chicago.
10. Cigar Rolling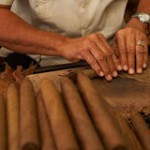 Whether you're a cigar aficionado or a complete beginner, the Graycliff Hotel, Restaurant and Cigar Company in Nassau, Bahamas invites you to learn the craft of cigar-rolling. Sign up for either an individual or group lesson, which both start with a look back at the history of tobacco. From there, you learn the basics of gathering the necessary materials and how to mix the perfect Graycliff cigar. You'll get to take your cigar home along with a complimentary cigar cutter.